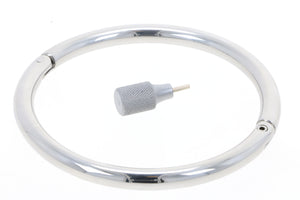 Stainless Steel Slave Collar
PH030
---
Size
Small - 14", Medium - 16", Large - 18"
Stainless Steel
Discreet, can be worn everyday!
Weighted
Snug and comfortable
Locks using the included Hex key
Comes in 2 sizes
Simple design
Approx 11mm thick
The Stainless Steel Slave Collar by Obedience is the only collar you'll ever need!
Designed to fit snugly around the neck, this simple slave collar can be worn permanently as it's discreet enough to pass off as regular jewellery!
It's weighted so you'll feel it around your neck, but it's comfortable and durable, so it will easily survive everyday life.
 
It locks using a Hex key, which is included, and comes in 3 sizes.
Why put a ring around their finger when you can put a ring around their neck? Collar them for life and show them who's in charge!
Made from stainless steel.
Approximate Size:
11mm thick
Medium 37.5cm internal circumference (15")
Large 41cm internal circumference (16.25")
---
We Also Recommend