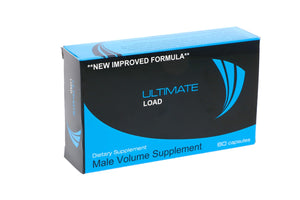 Ultimate Load - Semen Booster
UL005
---
Give your body what it needs to deliver a powerful climax during sex with Ultimate Load volume boosting tablets. This herbal formulation has been created to help energise sexual intercourse and help men to discover a more powerful orgasm than ever before.
Boosts the strength of the male orgasm
Increases seminal fluid production for a visually impressive load
Helps to increase the duration of climax
Strengthens the erection for improved sexual sensation
For men who have always wanted their orgasm to last longer or look visually impressive, Ultimate Load could be the easiest way of achieving that ambition. Packed with potent herbal ingredients, this natural formula has been created to heighten libido, deliver a better quality erection and give men exactly what they need to deliver a huge load when it comes time to climax.
Formulated with selenium, Ultimate Load can improve seminal fluid production up to three times the user's current production, leading to an orgasm that not only looks far more visually spectacular it also feels much better than ever before.
In addition to aiding men in developing improved ejaculation capacity, the Ultimate Load formula also helps to strengthen the penis muscles resulting in a stronger contraction during orgasm which helps to increase the range of ejaculation.
Offering results within just a couple of weeks, all it takes to benefit from this powerful load enhancing formula is two capsules taken daily with water. This will begin to develop the male body's ability to produce and store more fluid.
Ingredients: Folic Acid, Zinc, Cucurbita Pepo (Fresh herb equivalent), Zizyphus Jujube (fresh herb equivalent), Fucus Vesiculosus (Fresh herb equivalent)
---
We Also Recommend