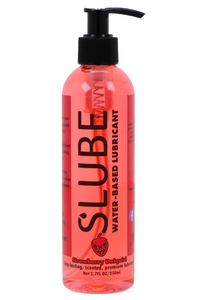 Slube Water-Based Lubricant Strawberry Daiquiri 250ml
SL010S
---
Slube - The cleanest way to get dirty!
Slip, slide and slather your partner in the silky smooth sensations of Slube!
Slube Lube is an all new way to experience Slube!
Slube Water-based lubricant is a premium, long lasting sexual lubricant, and one of the thickest lubricants available in a pump action bottle.
The non-sticky formula makes it a great choice when you're ready for a bedroom workout...
Each 250ml bottle contains a smooth, thick, sensual water-based lubricant, perfect for vaginal and anal use. The incredible Strawberry Daiquiri version is red and has an amazing Strawberry Daiquiri scent!
Slube is famous for its fun, exciting and erotic products, and with Slube Lube's condom safe and hypoallergenic formula, you can enjoy it in even more new ways!
Strawberry Daiquiri - Red colour, Strawberry Daiquiri scent
Non-Toxic
Hypoallergenic
Condom Safe
Internal Safe
Phthalate-free

250ml pump action bottle
Strawberry Daiquiri scent
Red colour
---
We Also Recommend