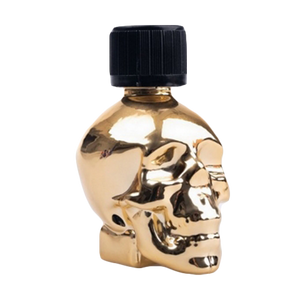 Gold Skull Pentyl Aroma 24ml
---
Stunningly beautiful, and looking just as good on the bedside table as in the playroom, introducing Gold Skull Aroma!
Gold Skull contains one of the most potent pentyl nitrites in the world.
Its pleasant smell and ultra-strong effects do not lack character, regulars will be delighted to find a high quality and ultra powerful euphoric in this magnificent bottle.
The sensations provided by Gold Skull are progressive, so experience urges and desires never experienced before.
Warning: A notice to lovers of ultra-strong poppers; Gold Skull has a very strong formula.
24ml bottle
Composition: pentyl nitrite
Classified as one of the strongest poppers on the market, Gold Skull will give you previously unexperienced sensations! You have been warned!
---
We Also Recommend