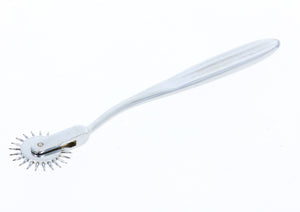 Stainless Steel
Perfect for medical players and BDSM fans
Free moving spiked wheel
Keep your victim on their toes!
A great piece of kit for both medical players and those into BDSM, the Midi Pinwheel features a circular head surrounded by sharp spikes!
 
From a slight tickle to intense erotic sensations, this stainless steel Pinwheel will keep your victim on their toes!

Use along side a blindfold and keep them guessing where and when the next prick will come!
---
We Also Recommend