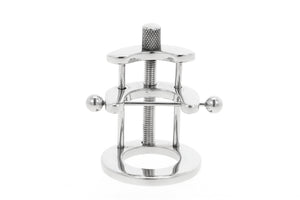 Give your pierced nipples some real punishment!
Made from Stainless Steel
Includes bodybar
Intense, hardcore nipple play
Easy to use
The Pierced Puller is for those how are craving the ultimate in nipple pleasure!
Made from Stainless Steel, simply unscrew the metal ball, insert the bodybar into the nipple piercing and then screw the ball back on.
Once your nipple is attached to the device, you can start screwing.
The nipple will be pulled away from the body further and further with each and every screw.
Removal is easy too. Just wind the device back down, and unscrew the bodybar. Your nipple is free again... for now!
Please note - this product can only be used with pierced nipples
One puller included.
Cleaning - Sterilise with hot, soapy water before use.
Size
Bodybar - 2mm thick
Stretching distance - Approx 4cm from body
---
We Also Recommend