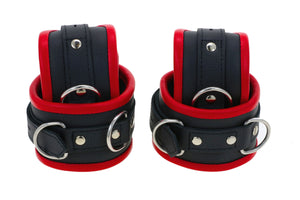 Premium Red Leather Restraints (4 Piece Set)
PH035-4
---
These high quality, padded leather restraints are an essential part of bondage play.
They're easy to use, comfortable and very, very effective!

Durable and hardwearing (perfect for strugglers!), the design has been tried and tested sucessfully!

Finished with soft leather padding, each restraint features a lockable buckle to ensure that only the padlock key holder can allow the slave's freedom! (Padlocks not included)
Stitched and rivetted to ensure these restraints are escape-proof, once locked on, your slave isn't going anywhere!
4 Piece (includes 2x Wrist & 2x Ankle Cuffs)
Size
Wrist to fit between 8" and 12"
Ankle to fit between 10" and 15"
All restraints approximately 6cm wide.
Please Note: Padlocks not included
---
We Also Recommend